The Founders' Club
The Founder's Club is the easiest and most foolproof way for seniors in their 60's, 70's, and 80's to:
Lose weight fast
Recover from surgery
Maintain their independence
Look and feel young again
Keep up with their loved ones
Live a healthy, active lifestyle
See What's Inside
👉 If you've had a hard time sticking to your fitness goals in the past... it's not your fault!
You simply didn't have the right exercises, support, and community to make working out easy, convenient and fun.
The Founders' Club, on the other hand, is designed to make you want to keep it movin'!
It's full of low-impact, senior-friendly workouts you can do from home – even if you have a busy schedule.
The Founders' Club Includes The Following...
Variety of Online Workouts
Instant access to over 300 low-impact workout videos. You can do these 24/7 on your own schedule.
Easily follow along in chronological order, so all you have to do is click play and see results. Deron will be with you every step of the way so you never feel lost.
You'll be able to find a workout for any occasion. Only have a few minutes to exercise? Deron has got you covered! Don't feel like getting out of bed? There's a workout for that too! 
Accessibility
Workout on any device. (Phone, Tablet, Computer, TV)
No complicated tech. Simply go to the website and login.
No Workout equipment needed.
Convenience
Workout from home.
Make your own schedule.
Bring it with you on vacation or winter breaks.
Simply click play and follow along.
VIP Support
Not sure which workouts to choose from or where to start? 
Deron and his amazing support team will be there to help you out!
Email support team 7 days per week.
Complimentary Bonuses
Join today and get these limited time bonuses.
BONUS - $100 Value
Short Routines & Lessons
[2-5 minute] workout routines. Great for when you are short on time or want to keep it movin' throughout the day.
[1 minute] video lessons. Quick tips you can apply to your life instantly.
BONUS - $100/month Value
Private Community
The secret to success is accountability! You will have access to our Private Facebook group where you can chat with other members of the program.
You'll Find Motivation
You'll Get Support
You'll Share Stories
This community is filled with inspiration from seniors just like you that are trying their best to live a healthy & Active lifestyle!
BONUS - $300/month Value
Motivation & Encouragement Bundle
The #1 reason why people have trouble following through on their fitness is a lack of motivation. We all need a little push from time to time!
As a members of the Founders' Club you'll stay inspired with messages directly from Deron. These include:
Weekly emails.
Weekly texts.
Workout reminders.
Comment section below each workout.
BONUS - $300 Value
Meals to Grow Young Course
Step by step cooking videos.
60 page recipe ebook.
Easy meal prep guide.
Deron provides a simple path to healthy nutrition, weight loss, heart health, and much more! You'll always know exactly what to eat (and when) in order to reach your health goals
BONUS - $500 Value
At Home Therapy Series (63 routines)
With these easy to follow videos, you'll be able to:
Recover faster from surgery
Heal and prevent injuries.
Alleviate pain and increase mobility.
Countless members have said these routines are better than going to traditional therapy. They are safe, fun, and anyone can do them.
Which means they'll keep you movin' no matter what – even if you're feeling under the weather or can't get out of bed!
That's
$1,300

worth of

bonuses

that you'll get for

FREE

when you join today! Get Started Today!
Select The Payment Plan That Best Fits Your Budget!
The longer you commit, the better deal you get!
Enrollment is Currently Open!
Real Members. Real Results!
Hear what members are saying about The Founders Club.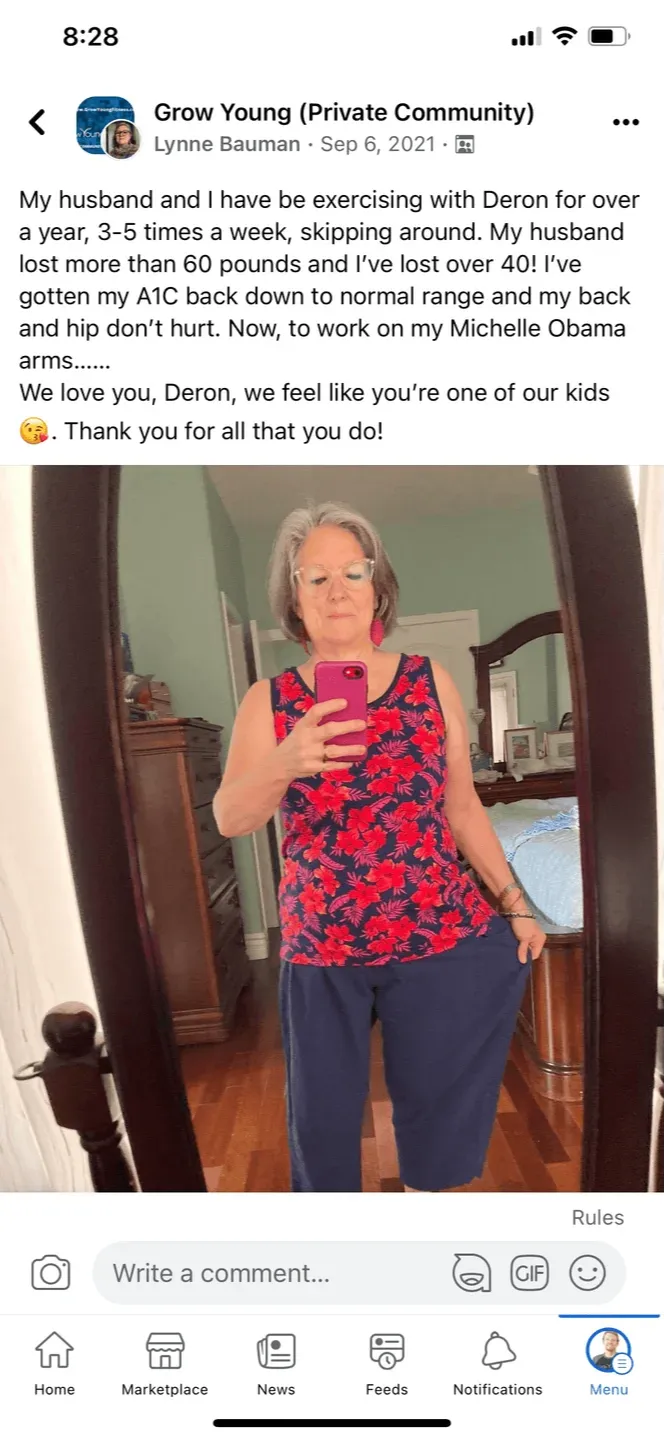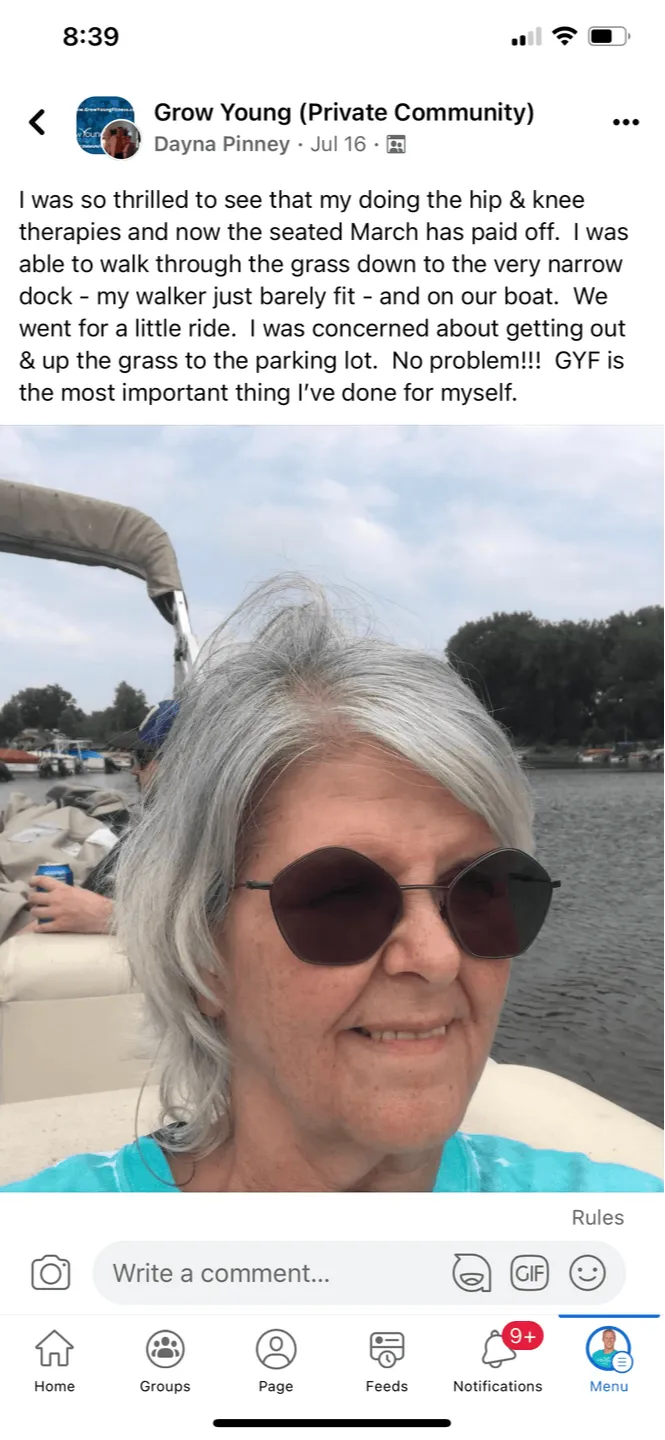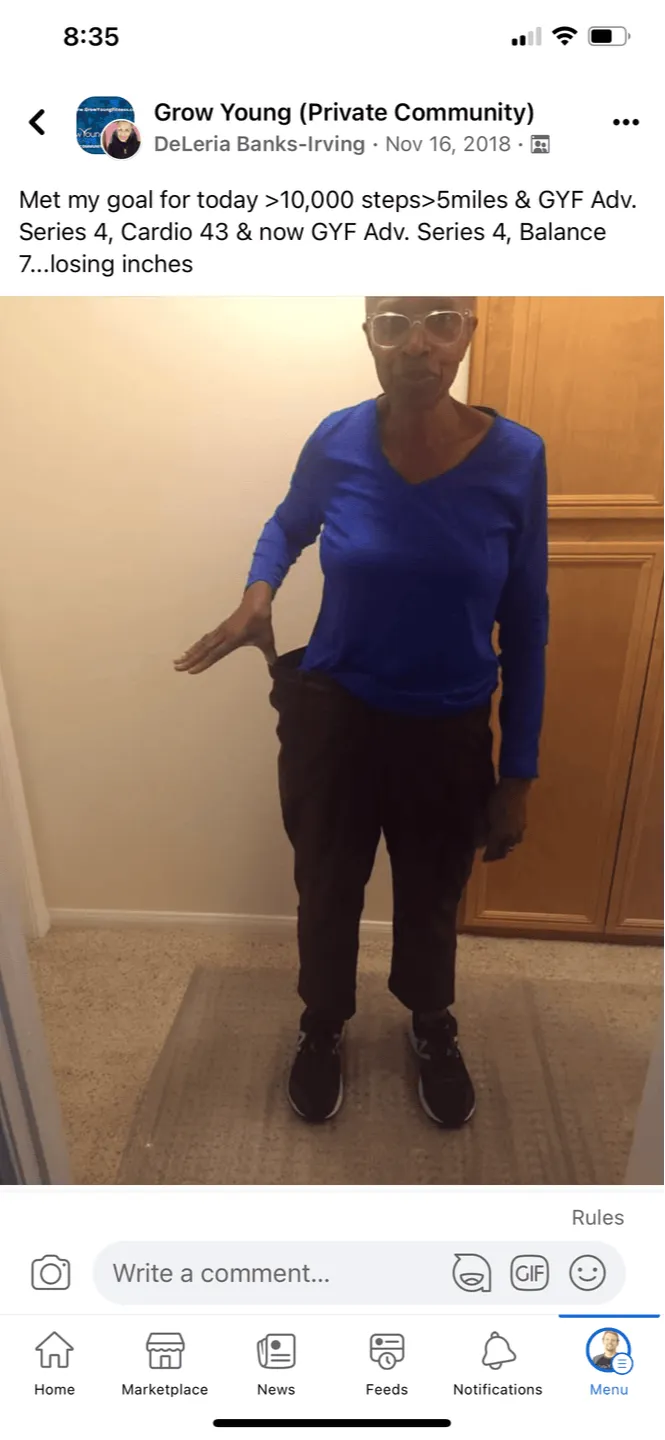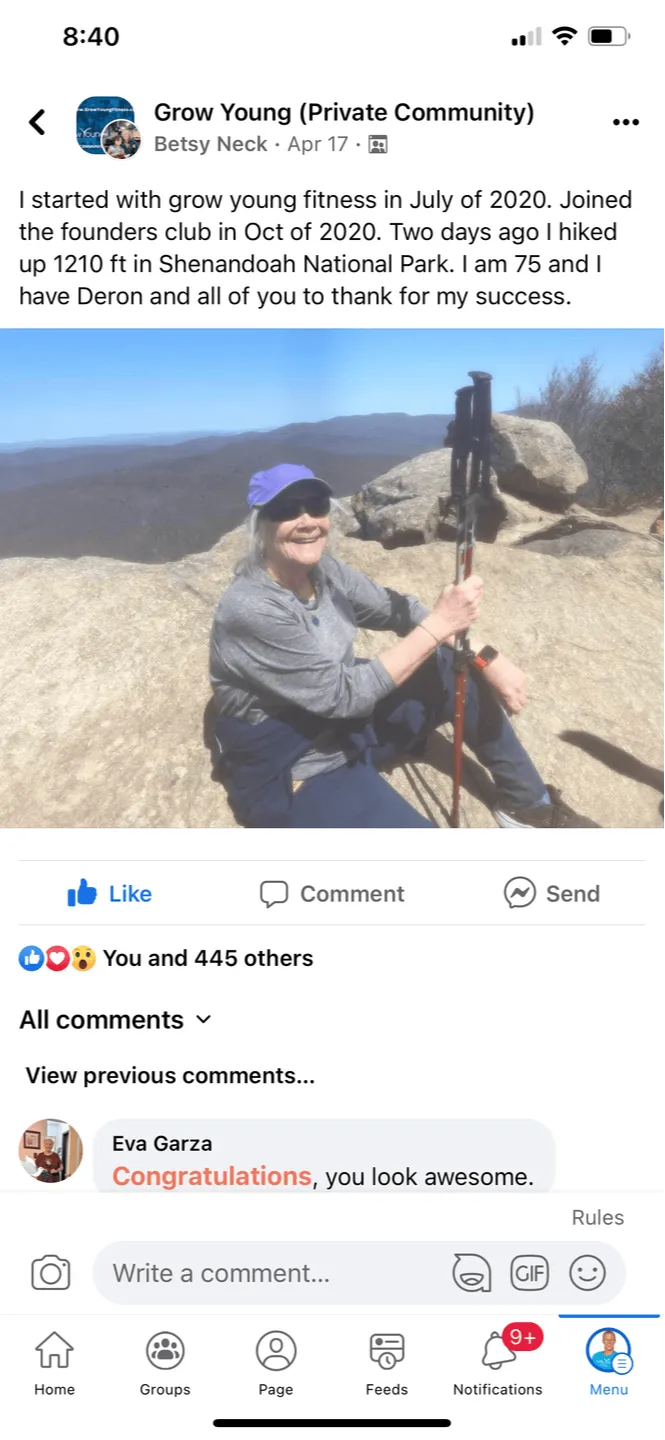 Frequently Asked Questions
Can I change payment plans?
What equipment is required?
Can I sign in on more than one device?
Can I view these workouts on my Smart TV?
How do I access these workouts?
Meet Your Instructor
Deron Buboltz has a Bachelors of Applied Science in Exercise Science. He is a Certified Strength & Conditioning Specialist For Seniors. He also has been certified through the Arthritis Foundation of America to teach exercises specific to arthritis, mobility and pains, along with being a Weight Loss Specialist.
What is The Founders' Club?
The Founders' Club is a one-of-a-kind online workout community specifically designed for seniors. The coolest part about the Founders' Club is you get to help shape what comes next! We listen to your feedback which has allowed us to improve the Founders' Club year after year!
Your input is what matters and we need your help to continue helping seniors "Keep It Moving" for years to come!
We've added over 300 workouts, a private Facebook community, supplements, text message motivation, lessons, and so much more all based on our member's feedback. Not only will you improve your own health by joining, but you will be making a long lasting impact for future members who follow in your footsteps.
When you join the Founders' Club you will have unlimited access to all of what Grow Young Fitness has to offer. As an added bonus, any new content we create will be automatically added to our current members accounts!
This is designed to be your one stop shop for health & wellness! What are you waiting for? Join today and start making a difference in your life and all of our future members!
Click Here to Get Started
72
Foundation Chair Workouts
Perfect for beginners.
72
Cardio Weight Loss Workouts
Burn calories lose weight.
6
Arthritis Therapy Workouts
Stay loose and reduce stiffness.
6
Chair Boxing
Keep your mind-body connection sharp.
24
Strength Workouts
Build muscle & increase strength.
18
Chair Yoga
Relax & improve flexibility and range of motion.
15
Chair Core & Back Workouts
Tighten your waistline and reduce back pain.
15
Balance Workouts
Reduce the risk of a costly fall.
15
Knee Therapy Workouts
Great for knee replacements & reducing pain.
5
Shoulder Therapy Workouts
Increase range of motion, build strength and reduce pain.
5
Hip Therapy Workouts
Great for hip replacements & reducing pain.
40
Nutrition & Cooking Lessons
Boost your results with these simple to follow tips.
17
Relaxation Videos
Breath, relax, and reduce stress.
2
Sciatica Bed Stretches
Reduce pain from sciatica flare ups.
43
Knowledge Lessons & Articles
Learn how to take care of your body.
NEW
Seated & Standing Marches
The perfect way to walk from home.
NEW
30 Day Fast-Track Programs
Fast-track your results!
We Are Always Adding New Content
We listen to your feedback and add more of what YOU want! Click below to take advantage of these sale prices today!
Get Started Today!
Still Have Questions?
Fill out the form below to get your questions answered.